The Conference consists of the Third of a series of previous successful meetings also organized by the Brazilian Chapter which took place at the Institute of Pure Applied Mathematics (IMPA) under the umbrella of the International Society for Porous Media.
The main aim of the 3rd conference is to disseminate knowledge on porous media related topics and strengthen collaboration among researchers by bringing together international and Brazilian specialists from academia and industry acting in a wide range of areas related to porous media research.
The event will take place at the National Laboratory for Scientific Computation (LNCC) located in the city of Petropolis during the period August 5-8, 2019. The talks will be given by Invited Plenarists and Semi-Plenarisits along with contributed Oral and Poster Presentations.
The scientific program will focus on advances in the research, methods, and theory of (but not limited to):
Digital Imaging (micro-CT images, Pore-scale imaging & modeling, upscaling of pore-scale forces)
Nanomateriais (Theory, Applications, Lattice Boltzmann, DNS, Pore-Scale, Discrete Network)
Numerical Simulation HPC
Uncertainty Quantification and Geostatistical Models
Applications in Biological systems, Biotechnology and Medicine
Fundamental mathematics of porous media flows (Theory, Computations and applications)
Petroleum science and technology (Theory, Computations and applications)
Water Resources (Theory, Computations and applications)
Seismic and Inverse problems
Applications in renewable energy
Geo, rock and soil mechanics
Final Program and Latest Updates
For the Final Version of the Program click here(updated on 31/Jul/2019).
Participants willing to attend the dinner shall sign the list available at the front desk. Click here for more information.
Vans will depart from Casablanca Imperial 30 minutes before the initial sessions, returning after the night events.
SHUTTLE -- TIME TABLE
Monday, August 05, 2019
08h00 - Shuttle to LNCC
08h00 - 08h30 - REGISTRATION
20h00 – 22h45 - Wellcome reception at LNCC hall
20h45 - Shuttle to Hotel Casablanca Imperial
Tuesday, August 06, 2019
08h30 - Shuttle to LNCC
21h30 - Shuttle to Hotel Casablanca Imperial
Wednesday, August 07, 2019
08h30 - Shuttle to LNCC
19h15 - 20h00 - Shuttle to Dinner's Place
20h00 - 23h30 - Dinner 3rd BR InterPore
23h30 - Shuttle to Hotel Casablanca Imperial
Thursday, August 08, 2019
08h30 - Shuttle to LNCC
14h00 - Shuttle to Airports and Downtown Rio
Call for Abstracts
Atendees are wellcome to submit a two-page abstract to the email: interpore2019br@lncc.br, before March 31st. The abstracts accepted by Scientific Committee will be select to oral or poster presentation.
Here you can download the LaTeX file template or the PDF file sample.
New deadline, april 30th!

Official Poster of BR InterPore 2019
To download the poster, please click on the links.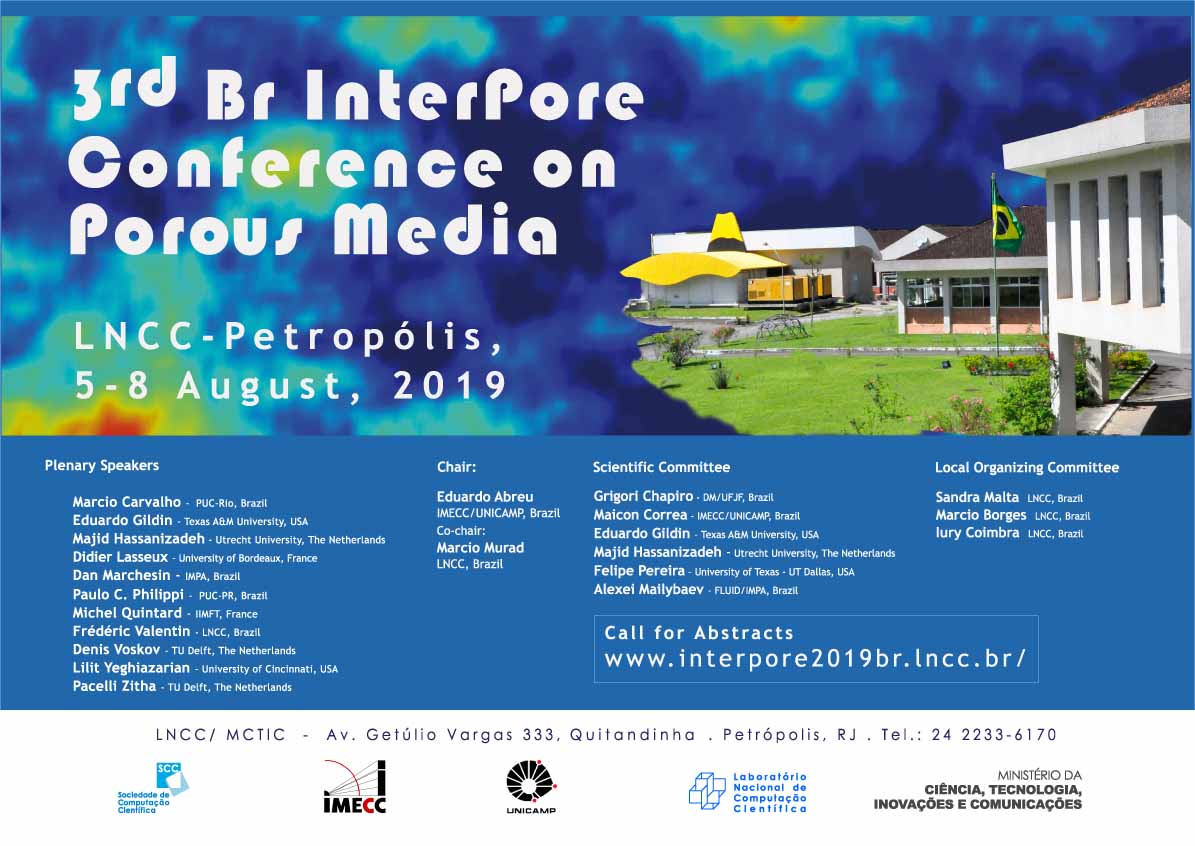 Arriving in Brazil
International flights arrive at the international airport Antonio Carlos Jobim (IATA: GIG, ICAO: SBGL), popularly known by its original name Galeão International Airport, in Rio de Janeiro.
From the airport to downtown Petrópolis
Taxis to downtown of petrópolis. Fare: about R$ 250,00 (Brazilian real).
Car rental is also available at the airport.
Uber is most one option. Fare: R$ 120,00 ~ R$ 180,00 (rate fluctuates).
Fares must be paid in cash at the end of the trip.
Electricity
In Brazil the electrical current used is 110 volts, 60 Hertz.
Weather
August is in the middle of winter.
Average maximum temperature : 24 ºC
Average minimum temperature : 15 ºC
Time
https://time.is/pt_br/Brasilia
Commerce
Shopping areas in downtown Petrópolis are open from 10:00 am to 9:00 pm. The most accepted credit cards are Visa and Master Card. Some stores accept also American Express.
Exchange Rate
Brazil´s official currency is Real (R$). 1 US$ (dollar) is roughly equivalent to R$ 3,85 (the exchange rate fluctuates). Foreign currencies can be exchanged at currency exchange bureaus, most of them located in International Airport.

Banks
There are several banks in international airport. There is also banks on downtown Petrópolis.
Car Rental
Localiza Hertz, international airport Antonio Carlos Jobim, Rio de Janeiro. Tel +55 0800 701 14 62
Movida, international airport Antonio Carlos Jobim, Rio de Janeiro. Tel +55 0800 606 86 86
Map of Petrópolis
Wednesday, August 7th on 7pm
Participants are invited to attend the Conference Dinner which will be held at the Barbecue restaurant Lago Sul.

The venue offers a wonderful view of the lake located near the famous historical Quitandinha Palace.
The dinner costs BR 104 per person and includes 1 beverage choice (soft drinks, juices, beer or caipirinha).

Participants can bring guests. Ticket(s) for the event should be purchased on the spot.
The venue is only a few minutes walk from LNCC.

Vans will also be at disposal.
After dinner the vans will take the invited speakers to the main hotel in dowtown.
Address:
National Laboratory for Scientific Computation (LNCC)
Getúlio Vargas Av., 333, Quitandinha
Petrópolis - Rio de Janeiro, Brazil
Phone:
+55 24 2233 6170
Email: